Like the song says "It's the most wonderful time of the year" but with that comes the daunting task of finding the perfect gifts for your friends and loved ones. We did a lot of research and found something for everyone. Let us provide you some INSIGHT on some of this year's best presents and stocking stuffers. (In no particular order and gifts for Adults and Kids)
1.Philips SmartSleep Sleep and Wake-up Light:
This is designed to replicate Sunrise in the Mornings and Sunsets in the evening which gives you a peaceful bedtime and morning routine recommended by physicians and pharmacists. Also packed with smart features such as a built-in radio, an auto dimmable display, wake-up sounds, a midnight lamp, a phone charging dock, power back-up, speaker, and smart snooze. Available at a reasonable price this makes for one of the best Christmas gifts of 2021.
2. Esarora Ice Roller:
This is a perfect stocking stuffer and is easy on the purse strings. Providing a spa-like facial massage designed to relieve tension, headaches and pain the roller glides over your skin improving circulation by bringing the blood to the skin's surface, and restoring cell functions. This cold therapy is also a perfect tool to instantly reduce redness and puffiness. Pair this with the Wake-up Light above and what a way to start the day, even after a night of heavy adult egg-nog drinking.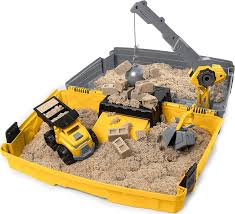 3. Kinetic Sand and Sandbox Playset:
Here is one of the standout toys for Kids for this 2021 Christmas. It is for ages 3 and up and I really think adults can have a blast playing alongside their children with this gift. The sand is nothing short of magical and can be molded and shaped into anything you can imagine. It also does not dry out so it can be left out and revisited when ready to change the last design that was made. The playset comes with a dump truck, some brick molds, and a crane with attachments all designed for moving the magical sand around. This setup can entertain your kids for hours so be sure to have it under the Christmas Tree this year.
4. Giant Yard Pong:
Remember playing (Beer) Pong on the ping pong tables? Just imagine taking that game on steroids and bringing it to the back yard. That is basically what the Giant Yard Pong game from Yard Games is. Perfect for outdoor events such as BBQ's, camping, tailgating or just a fun family party. The Giant Pong comes with twelve giant buckets, two heavy duty plastic balls that do not get blown around by any wind. It has a heavy-duty carrying case for the supplies and gives you exact ratios of where to set the buckets for your favorite beer pong games. Pretty easy gift to find this year being sold most everywhere and for under fifty dollars.
5. Arccos Caddie Smart Sensors Featuring Golf's First-Ever A.I. Powered GPS Rangefinder:
If you have a golfer in your family, this is the perfect gift for you to knock their socks off. They offer two products in this line: the Arccos Caddie Smart Sensors and the Arccos Caddie Smart Grips. I recommend just going with the Smart Sensors and screwing them into the grips of your clubs rather than replacing them with the Smart Grips. This product works in tandem with an app you download to your smart phone and records literally all your data and let's you see exactly what your swing is doing. Showing your distance, ball flight, putt tracking, and much more. It also works as a Golf Course GPS showing you distance to the flag and hazards. This product is awesome and not as much as you would think, coming in at 180 dollars. It comes with 14 sensors for each club in your bag.
6. Evviva Ant Habitat W/ LED Light:
I remember having an ant farm as a kid and really enjoyed watching the tunnels and interaction of the ants. The Evviva Ant Habitat with LED Lighting is the new age version and unlike the one my generation grew up on, this one has a few more bells and whistles or in this case blue gel and led lights. Their premium blue gel enables the ants to live far longer and dig deep, intricate tunnels. The cool blue LED lighting working with the blue gel really gives this a neat look. Not only will this be fun for your kids, it can be educational too. It comes with an ant science E-Book with all kinds of facts and experiments you can learn on the ants. The habitat is 6.5 x 5.5" so it will not take up much space and includes a LED light base, magnifying glass, stick to help the ants dig, and a discount code for live harvester (in case you don't want to find your own). We did notice Power Adapter Plug is NOT Included (but USB cable is included). Great gift to light up your kids' room and get a bit of the science bug (no pun intended) early in their life.
7. MYNT3D Super 3D Pen:
In our opinion this is one of the top Christmas gifts of 2021. Anyone that likes to create things and has an artistic side to them will absolutely love this. It basically takes what would be a normal drawing and brings it to life in 3D. The ultrasonic sealed nozzle is clog-proof, and it comes with three different colors of ABS plastic filament to choose from. The speed slider let's you control the flow of the material when you are creating your 3D masterpieces you can hold, display, or play with. It does come with an A/C adaptor and has a 1-year warranty.
8. Corkcicle Whiskey Wedge – (Double Old-Fashioned Glass + Silicone Ice Form):
If you anyone in your circle of family or friends that really enjoys a good whiskey this is the gift for them. It provides a very artful presentation while perfectly chilling the spirit of your choice. It is designed for smooth sipping by forming an ice wedge that melts at a perfect pace allowing you to enjoy your drink without it being watered down. The set comes with one double Old-Fashioned whiskey glass and one silicone ice form that the frozen wedge is made of, fitting perfectly into the glass. Pro tip: If you really want to make the "Nice List" with this gift, pair it with a nice bottle of whiskey so it can be enjoyed as soon as possible.
9. Otamatone [English Edition]:
One of the most popular toys in Japan has made its splash here in the U.S. The Otamatone is basically a synthesizer shaped like an eighth note
. If you are not familiar with what that note looks like, think about a Ladle you use in the kitchen. They come in different sizes and have lots of different looks. The note head has eyes and a mouth where the sound comes out. While one hand squeezes the head the other hand can motion up, down and all around the stem making various sounds with different pitches (very similar to a Theremin instrument). You can apply different pressure to the head, shake it and come up with all kinds of original sounds. It is very fun and features volume controls, an on off switch, and octave change on the back
10. Useless Box:
Had to save this one for last just because it is one of those gifts that seems so out there, so what is this, so (as stated) useless; yet could possibly be the hit of the party. So, what is a useless box and why would I want it, you may ask. First off it is a nicely made box marked at the top Useless Box and at the bottom there is a flip switch that says, PUSH. Who in their right mind will not push this switch, am I right? As soon as you do a lever pops out, as quick as a hic-up, and flips the switch back off. I know that sounds crazy, but it is funny, addictive, and let me tell you this thing can hold up to constant abuse. It is simple and well made. It is an unusually unique gift that is a conversation starter for any household.