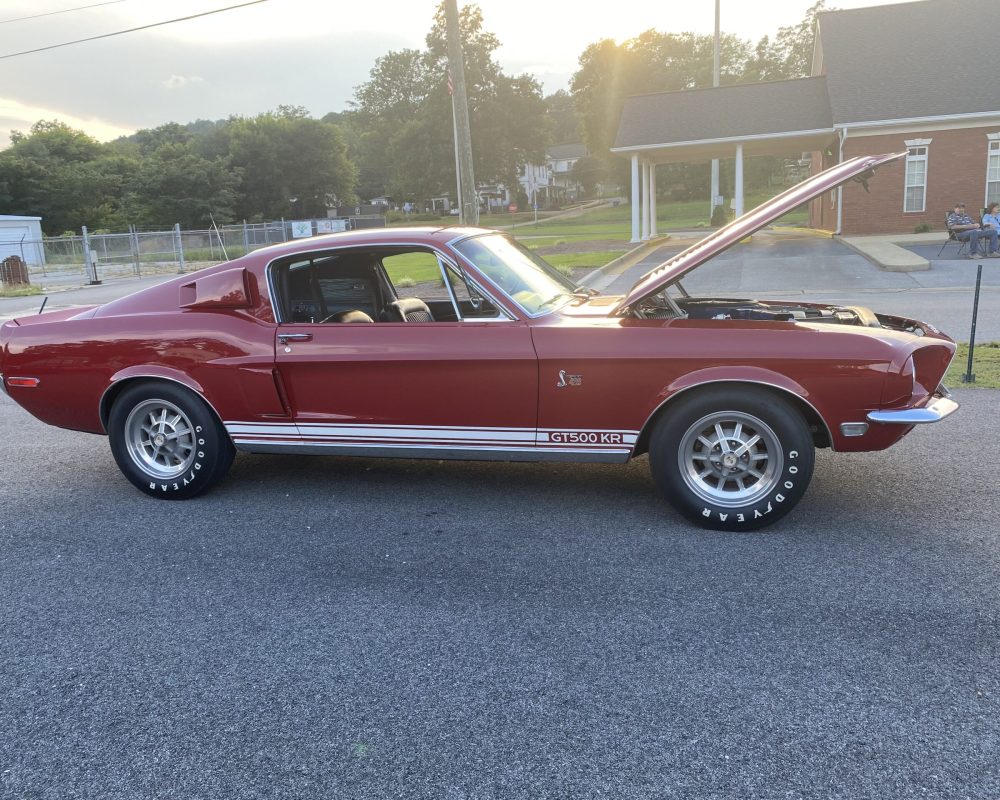 Food Truck Fun at Oxford's 2nd Friday on Main
Some call it 2nd Friday on Main. Others call it Food Truck Friday. Whether you go to buy a gift for a family member or friend, pick up a tasty hot meal, play some cornhole, or check out a movie, Oxford, Alabama offers all that and more at their monthly 2nd Friday on Main event. As the weather starts to cool down a bit (we hope), why not take advantage of a night the whole family can enjoy?
A Movie…on the Side of a Truck?
Yes, you heard me right. As I whipped out my lawn chair, ready to listen more closely to the live music that had been filling the air (I didn't get to catch the name of the group, but they did a mix of country and gospel tunes), the band leader said, "Thanks, folks. We're done."


Darn. I'd missed it. Then a truck about the size of a large U-haul backed up in front of the gazebo where the band had been situated. I assumed it was their truck come to haul their gear away. I was mistaken. Suddenly, the truck lit up, and Monsters, Inc. began! That's technology for you these days! 
Once the movie really got started (ads kept interrupting for about five minutes), this portable giant screen was clear and colorful, while the surround sound was impressive. Kids who'd been jumping in the bouncy house, playing cornhole, or chasing each other on the fresh summer lawn settled down with their parents on blankets or in chairs and watched. I just kept thinking, what a nice way to spend a Friday night!
Antique Cars and Trinkets for Sale
What downtown Friday night event would be complete without some antique cars to admire? I'll admit, I almost missed them, as they were set up in a lot across from Dorsey's Market, without signage to let folks know what they were missing (hint hint to the organizers). I'm glad I bumped into a friend whose husband had brought their vintage Ford Mustang to show, who led me in that direction. Cars from the 60s, 70s, 80s, and a couple modern hot rods were a must-see attraction and made more enjoyable by the classic tunes playing through a speaker system.
Closer to Simmons Park, vendors were set up lining the alley leading to Southern Girl Roasting Co., a local hot spot (no pun intended) for coffee (or on a humid night like this Friday was, an icy Frappuccino). Among the vendors was The Mushroom Preserve, a local artisan who creates one-of-a-kind gifts from foraged mushrooms. Woodworking and other crafts were ripe for the picking. Plus, many of the quaint local shops were open to accommodate those interested in street shopping.
Food Trucks Galore!
They've nicknamed it Food Truck Friday for a reason. All kinds of food trucks were parked along the main drag, providing a variety of offerings that would satisfy most anyone's tastes. Local trucks included The Classic Melt, a truck firing up a variety of classic wood-fired pizzas ranging from $12-$18. A few steps away was Send Noodz, a new truck on the block since April 1, 2023, with a menu of Asian-inspired street food dishes (more on this truck in a moment). Close to the kid's action area sat Bonnie Ray's Bake Shoppe truck, the perfect option for an after-dinner cupcake dessert. Not far down sat another local truck–Calhoun County's own Kona Ice. The truck was as colorful and inviting as the multi-colored snow cones and other delights they were serving–the perfect refresher on a hot summer evening.
There were some trucks from outside Calhoun County who had journeyed to share their recipes with Oxford locals, such as the Two Sisters Homestyle Cafe truck from Ashville, AL, serving up Barbeque and other downhome American plates. Taco Tuesdays from St. Clair County was offering tacos, quesadillas, nachos, and Mexican street corn. And last (but by far not least), a truck that has received a lot of notoriety since its founders appeared years ago on Shark Tank was in town. Cousins Maine Lobster was ready to deliver sandwiches, tacos, soups, and other items that feature their staple Maine Lobster as the main ingredient.
Honestly, with so many delicious choices before me, it was tempting to buy something from every truck on the street. But I came to spotlight one truck local to Calhoun County, as we aim to support our local restauranters first and foremost, whether they sit in a permanent spot or travel around on wheels. I settled on Send Noodz, one of the newer food trucks in Calhoun County. 
Since they hit the road at the beginning of April this year, they've been present at numerous events around Calhoun County including the Anniston Summer Food Truck Festival in Zinn Park, the Freedom Festival at Oxford Lake, the Fast Food Festival in Oxford, and the Pancake Breakfast and Vendor Fest in Weaver, just to name a few.
Javier Zayas, the owner, had not only attended culinary school but was inspired by the foods he ate in Korea and Japan while stationed there during the time he spent serving in the military. He was particularly impressed with Korean street food, which influences the ramen noodle-based bowls currently featured on his menu. In fact, his favorite recipe on the menu is the "Station 8 Special," a Korean dish described as, "Fire Force inspired flaming bowl of spicy noodles topped with melted mozzarella cheese and spicy gochujang pork, garnished with sesame seeds and shredded nori." Wow. I can't help but think that dish would pack a mean and spicy punch!
I ordered the "Sea King Feast," a blend of seafood ramen topped with tonkatsu miso broth, double shrimp, ajitama egg, narutomaki, crunchy garlic, kimchi, sliced scallion, and shredded nori. I enjoyed the distinctive flavors that each individual item in the stew carried. The shrimp were mildly spicy (which I like), the egg was particularly flavorful, and the broth was bright and savory. After I'd gobbled most of it down, I sipped the soup to top off the delectable experience. 
If you're a fan of Korean cuisine, or simply of elevated ramen, I highly recommend you catch this truck when you can. Javier shared that he has a permanent location in the works in a space now occupied by Kin Express. He has plans to expand his menu with other items like rice balls. You can stay informed of where to eat Send Noodz next by checking their Facebook Page.
When the second Friday in September rolls around (September 8th to be exact), make sure you've planned to make it an evening at Oxford's 2nd Friday on Main.