Calhoun County has so much to offer in the way of places to go and things to do. Not only is there beautiful terrain for outdoor activities like golfing, biking, and hiking–there are also businesses that cater to keeping families entertained when boredom sets in. While we're sure you may be aware of many of the options that made our list, there are also some hidden gems we'd like to bring to light. Here's our list of the top 10 things to do in Calhoun County.
In the past couple of years, Big Time Entertainment fun plex has been the premier place for families in Calhoun County to go and have an entertaining time indoors or out. The attractions range from bowling, laser tag, arcade gaming, a ninja warrior course, soft kids playground, and indoor go-karting, to outdoor axe throwing and a 19-hole adventure golf course. If you're looking for the latest in virtual or reality fun, then look no further. It's located at 42 Tower Road, Oxford, AL. 
Spread across over 300 acres, Choccolocco Park has a massive manmade lake with trails around it perfect for running, biking, and walking. Walkways also stretch beside Choccolocco Creek, where folks can rent kayaks and float the gentle waters or fish. Perhaps the biggest draw is the soccer, baseball, softball, track & field, and cross-country amenities this park has to offer. The NJCAA Softball Championships, Monster Baseball, Disc Golf, and more await eager athletes and spectators alike. Visit today at 954 Leon Smith Pkwy, Oxford, AL. 
Take a stroll through the Longleaf Botanical Gardens to view fruit trees, plants, and tropical vegetation on the cultivated grounds surrounding the museums. Or view replicas of prehistoric and modern animals, scenes from the past, and learn about all various cultures at the Anniston Museum of Natural History and the Berman Museum. The Anniston Museums and Gardens also offer a variety of programs and special events all year long for children and adults alike. It's tucked away at 800 Museum Drive, Anniston, AL.
Coldwater Mountain Bike Trail is every mountain biker's dream come true. Red-dirt trails varying in degree from beginning to advanced wind for miles on the rugged terrain. Take it easy on the Baby Bear trail, give yourself a mid-level challenge with Mama Bear trail, or explore thrills and chills on the Goldilocks or Papa bear trails. There's fun for all any time of the year, or take part in one of the sporting events like the yearly Fat Tire Challenge. Get your dirt bike out and work it hard atop Coldwater Mountain just off of Coldwater Road in Anniston.
If you're looking for a unique wine-tasting experience in a scenic setting, you'll need to plan an outing to White Oak Vineyards. Not only can you sample dry or sweet red and white wines, muscadine wine, and fruit-flavored Southern Oak Wine, but you can also tour the winery and vineyard, and end your visit with a stop at their store. A taste of culture awaits at 1484 Dry Hollow Rd., Anniston, AL.
One of the natural treasures of Calhoun County is the Mountain Longleaf National Wildlife Preserve, which provides a gorgeous habitat across 9000+ acres on and around Choccolocco Mountain, located just outside of Ft. McClellan. Activities include hiking, photography, and wildlife watching on any of 18 miles of trails. There's also opportunities for deer hunters.  
Live entertainment thrives at Oxford Performing Arts Center, where rock, pop, soul, and country touring artists perform to adoring crowds. The best in current Broadway musicals also dazzle audiences, all within the comfort zone of Calhoun County. The antique theater provides the perfect setting for national acts as well as local performing groups to take the stage in historic downtown Oxford, Alabama.
Blackberry Hill Alpacas offers much more than just an afternoon interacting with loveable alpacas native to Peru. Besides providing the opportunity to tour the farm, learn about alpacas, and purchase unique items from the gift shop, this farm is also a venue that hosts special events such as weddings, parties, and more. Plan to visit at 6330 Saks Rd., Anniston, AL.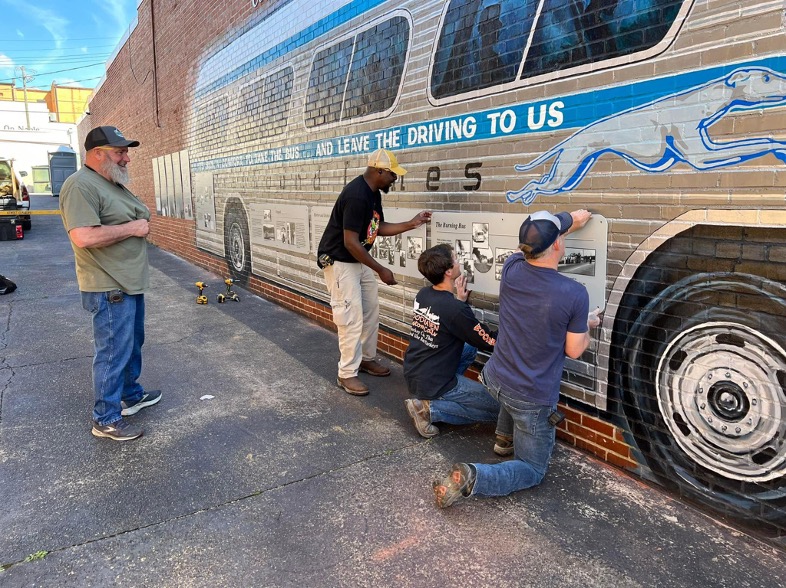 Anniston is home to a monumental event that took place in 1961. The Freedom Riders, a group of Civil Rights activists, rode aboard a bus which passed through this town on May 14th of that year to bring about change. The Greyhound Bus they rode was attacked by members of the KKK with a firebomb, who then tried to prevent passengers from vacating the burning bus. While no one perished, this event went down in history, and is remembered in Anniston at the Freedom Rider's Park and National Monument, both found in parts of Anniston like 1031 Gurnee Ave., the corner of 9th and Noble St., and along Hwy. 202.
While not technically part of Calhoun County, Cheaha State Park is only a short distance from Oxford, Alabama, just across the county line. Its prominent landmark is Mt. Cheaha, the tallest mountain in all of Alabama at an elevation of 2,413 feet above sea level. Enjoy hiking trails, lakes for swimming, canoeing, and fishing, and scenic views of all the surrounding mountains and hills. Top off the day with a delicious meal at the Vista Cliffside Restaurant, or spend the night in the campground, in a quaint cabin rental, or in a room at the lodge.
Summary of Top 10 Things To Do in Calhoun County
| | | |
| --- | --- | --- |
| Rank | Things To Do | Location |
| 1 | | Oxford, AL |
| 2 | | Oxford, AL |
| 3 | | Anniston, AL |
| 4 | | Anniston, AL |
| 5 | | Anniston, AL |
| 6 | | Anniston, AL |
| 7 | | Oxford, AL |
| 8 | | Anniston, AL |
| 9 | | Anniston, AL |
| 10 | | Delta, AL |